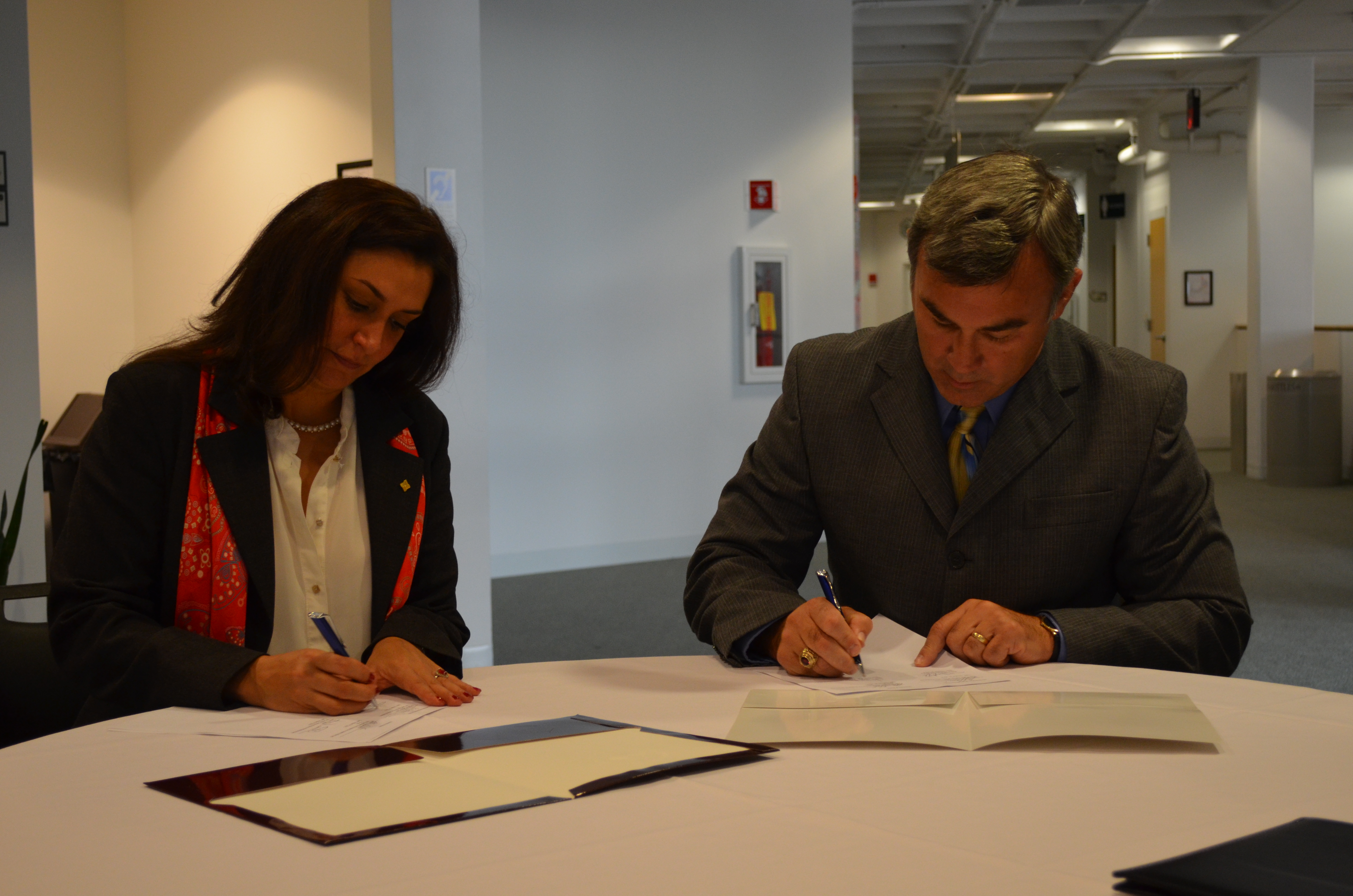 UMaine Signs MOU with Universidad Anáhuac México Norte
The University of Maine signed a Memorandum of Understanding (MOU) with the Universidad Anáhuac México Norte (UAMN) on October 3, 2014.
The MOU was established to promote educational excellence, academic ties and international cooperation.  To achieve these goals, representatives from both institutions have agreed to:
Consult faculty and academic units to explore potential mutually beneficial collaborative research projects;
Encourage units to explore the feasibility of initiatives such as student, faculty and research scholar exchanges to promote cross-cultural learning and research;
Explore the feasibility of joint proposals for international funding;
Initiate discussions on the cooperative development of courses and academic programs.
Representatives from UMaine's School of Policy & International Affairs (SPIA) and UAMN's Escuela de Relaciones Internacionales established the connection between their respective universities and negotiated the details of the MOU.  Capt. Jim Settele, SPIA's Director, and Dr. Jessica De Alba Ulloa, Coordinadora Académica del Área de Estudios Políticos at la Escuela de Relaciones Internacionales, signed the agreement.
"Students of both universities will benefit greatly from a wide range of possible academic, scientific, and cultural collaborations," said Dr. De Alba Ulloa during the signing ceremony.  "We look forward to a wonderful long-standing relationship with the great University of Maine."
Anáhuac is celebrating its 50th anniversary in 2014.  It offers 48 undergraduate degrees, 15 PhD programs, 48 master's degrees, and 36 specialties in various disciplines across its 19 Colleges and Schools.  It is dedicated to creating leaders committed to the development of Mexico through academics, human values, sustainability, and professionalism.