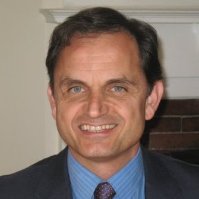 Speaker: William B. Farrell, Senior Advisor, Mercy Corps and Wolfe Fellow, School of Policy and International Affairs at University of Maine
William Farrell is Senior Advisor for Special Projects at Mercy Corps, a leading relief and development organization with ongoing operations in over 40 countries and nearly 4,500 staff. Prior to this position, Farrell served as Vice President for Corporate and Foundation Relations and Vice President for Program Development, leading the design and support of high impact programming and development of partnerships globally.
In addition to his work at Mercy Corps, Farrell is cooperating faculty at the Maine Business School and a fellow at the University of Maine's School of Policy and International Affairs, where he researches jihadi organizations. He is a member of the Maine Advisory Committee of the U.S. Global Leadership Coalition.
A graduate of Tufts University and of the Fletcher School of Law and Diplomacy, Farrell has worked with international donor agencies, non-governmental organizations, and the United States Government over the past two decades. His experience in transitional countries has given him significant background in confronting the challenges of instability through community-led and market-driven programming.
Seconded by the United States Department of State to the Organization for Security and Cooperation in Europe, Farrell was substantially involved in the formal peace negotiations between Georgians and South Ossetians as well as between Tajiks, during the civil war in Tajikistan. His work with the United States Agency for International Development in Central Asia helped communities and governments develop stronger partnerships to enhance the lives and well-being of citizens. He has worked in support of emergency response in Sudan, as well as assessing large parts of the Sahel for concrete ways in which development assistance can be used to counter extremist activity.
Farrell is proficient in Russian and German. He lives with his wife and five children in Maine.
He regularly speaks on topics related to fragility and instability.
Lecture part of the Socialist and Marxist Studies Series.